2D Planet Pack
A downloadable asset pack
A total of 96 FREE 2D Planets with 17 different Terrain Types for you to use in your games or projects! Every planet has been rendered at both 512x512 and 256x256 with transparent or white backgrounds, no aliasing, and minimal lighting so they can be lit from any direction. Each surface was procedurally generated and mapped to a true sphere, then rendered at multiple sizes for ease of use and scaling down. Each planet also has 5 variations to choose from!
Now included is a pack of Planet Textures that can be used to apply to 3D spheres for creating 3D planets.
Current Contents:
Main Pack (512x512 / 256x256) - 75 Planets!
5 x Alpine Planets
5 x Alpine Planets w/ Clouds
5 x Desert Planets
5 x Ice Planets
5 x Poison Planets
5 x Red Planets
5 x Rocky Planets
5 x Volcanic Planets
5 x Ocean Planets
5 x Ocean Planets w/ Clouds
5 x Tropical Planets
5 x Tropical Planets w/ Clouds
5 x Radiated Planets
5 x Cracked Planets
5 x Moons
Gas Planets Addon (512x512 / 256x256) - 26 Planets!
16 x Gas Giants - 8 Different Colors
10 x Greenhouse Planets - 6 Different Colors
Planet Textures Addon (512x512) - 76 Textures!
76 x Planet Textures for 3D Spheres
UPDATE 10/3/2022: Spaces have been removed from all filenames, making it easier to work with programs that cannot read spaces.
To learn more about how you can make your own planets like these, check out the official Screaming Brain Studios website HERE!
There are corresponding terrain backgrounds for each planet in the Planet Surface Backgrounds pack!

These planets also work well with the Seamless Space Backgrounds pack!
Download
Click download now to get access to the following files:
SBS - 2D Planet Pack - Small 256x256.rar
5 MB
SBS - 2D Planet Pack - Large 512x512.rar
81 MB
SBS - 2D Gas Planets Addon.rar
29 MB
SBS - 2D Planet Textures Addon.rar
29 MB
Comments
Log in with itch.io to leave a comment.
Very nice assets :)
How could I blend them in, the small planets do not have transparency?
Thank you!
Oh gosh, I might have to go through and manually fix that. There is a site you can use to quickly wipe out the white background and convert it to transparent, in the meantime: White to Transparent
Thank you very much! Your assets are really awesome. I am already using the space backgrounds and I was also interessted in the small planets (Fake version) :)
Would really love to use them in my game, but this website does not help alot for them, because parts of the planet are the same black as the background.
Haha, I am not a photo shop expert; I am sure there would be a way :)
Oh yes! Those were rendered using a different tool than the larger planets and are one of the earliest packs I released! I may have to go back through and re-render them to get them properly set up to use a different background color (Teal or Magenta) as the software is rather old and does not actually render transparency
I've gone ahead and re-rendered all the Tiny Planets so they use a teal background instead of a black one, which should make them much easier to extract from the backgrounds! Every planet is exactly the same size, and rendered with the exact same pixels around the edges, so now you can easily just wipe out the background with the Fill Tool in Photoshop or Gimp, or using the website mentioned earlier to convert the Teal into a transparent background! The exact color value is R: 0 G: 128 B: 128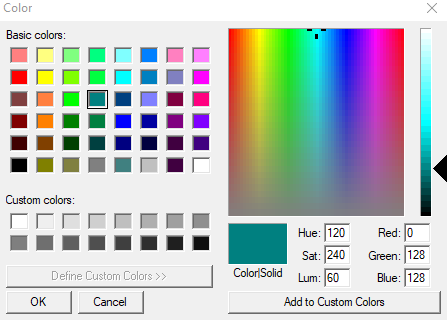 Wow, I dont know what to say, really appreciate it :)
I will check it out at the weekend when I have more time, and include them in my game :)
Thank you!!!
would be great if it had more picture in animation,did i open it right it has 5 pictures for animation? would be nice to have more.
They aren't actually animated planets, unfortunately! Currently the 5xSprite sheets are just 5 variations of the same style of planet. But now that you mention animated planets, that is actually a great idea for a new planet pack! I'll be adding that to my to-do list!
oh i see,... its not meant as rotating planet to be :)

but it would be great if they were so that they have full rotation :)
Usualy they are between 30 and 60 frames
That is the plan! I'm beginning work on a new pack of animated planets, so far I've begun with 32 frame rotations and some test renders! It may take a while, but I will release some animated planets :)
Totaly great... hope to get one free :) at least :D
i am making old stile retro game,space race,one screen,more players and one level would be race around the planet :D
32 is nice.. maybe even 60.. some people make it also in that frame,but anyway :D looking forwad to see how its going to look :)
They will all certainly be free :D In the meantime, here is the first test of many to come! This sheet is 32-frames at 256x256 per frame, so it is rather large. The actual final pack will have both individual frames as well as sprite-sheets!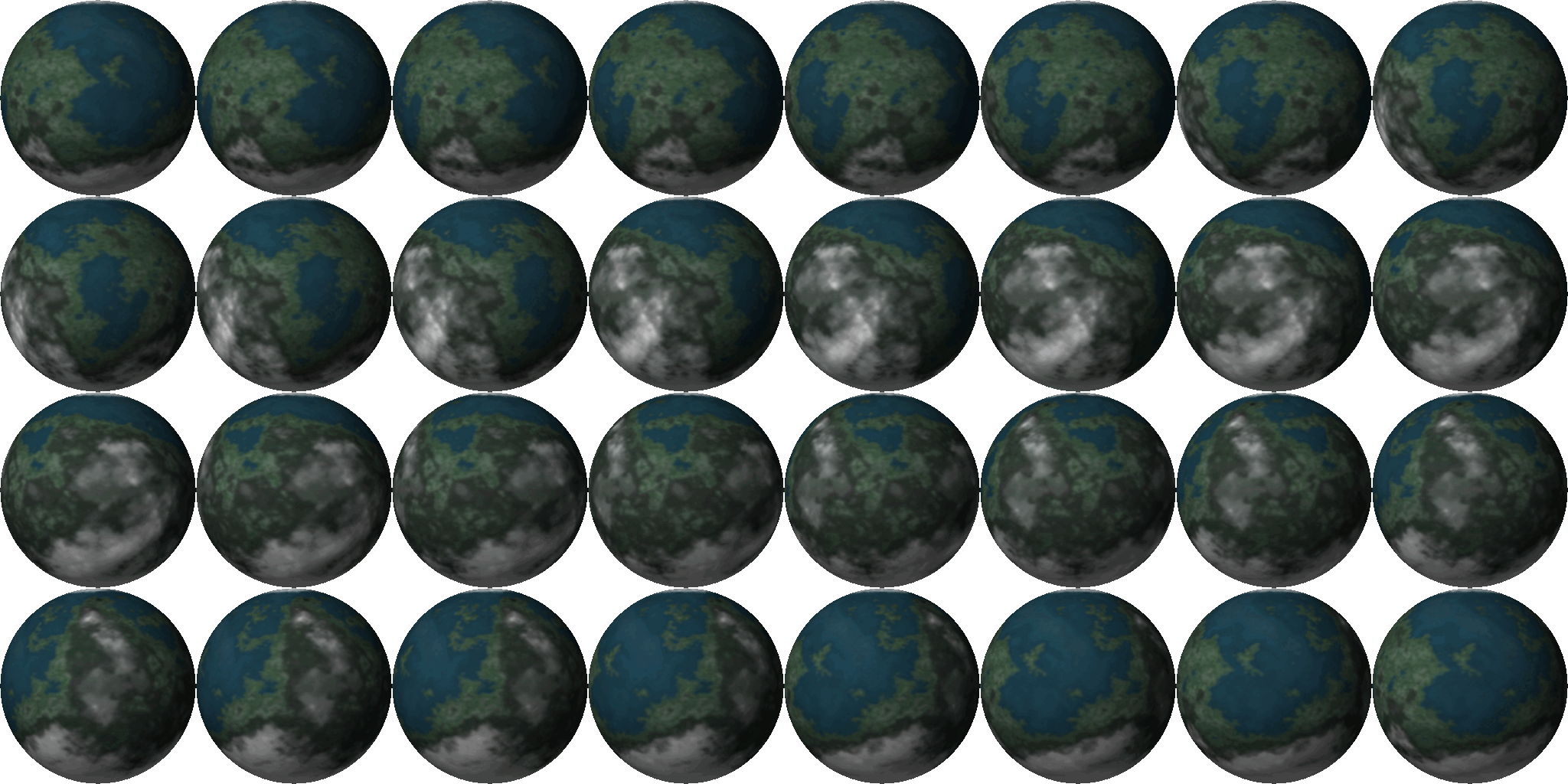 just to ask, i seen new update but its still aint smooth animation of planets :) ?
so ,just to ask when is planed maybe some planet to be made in smooth turning animation :) ?
volcano planet if posible <3 :D
now i am making (still) a top down racer,but its moving so after that if posible i like to do space racer,
great work,thanks for lething it to be used :) <3
Apologies! It was just a quick update fixing a filename and updating the License.txt file! I still have to finish working on animated planets, though it could take me a bit of time! I can certainly do a volcano planet for you!
No problem ,i am not fast with game making,living in forest,preparing wood for winter :D and mostly doing alone or workin with my distant brother so its not going fast, just i thout to ask is it in arround two mont period :) its totaly fine if it goes one by one :D i am not fasting in making so i can add how it goes :D <3

Thanks again,your planets and backgrounds are awesome :D