Isometric Floor Texture Pack
A downloadable asset pack
A series of 156 FREE Isometric Floor Textures for creating 2D isometric graphics!
Every texture in this pack has been rendered as *.png with both Left and Right angles and has seamless tiling. These are specialty textures that have been skewed to the proper Left and Right isometric angles for creating Horizontal Objects or Floors, and are not intended to be used for Isometric Wall Tiles. Currently, there is only one size available (256x128) but they can easily be tiled and resized to make larger textures if necessary.
Useful for prototyping, mockups, creating tiles, or any special case where angled 2D textures might come in handy! Most of the textures in this pack are already available as Isometric Walls in the Isometric Wall Pack, or have been repurposed from the Tiny Texture Pack. Some textures work better with this effect than others, Brick or Tiled Floor textures for example, so some textures have been left out or only have one rendered angle if there is no visible difference (Such as certain Grass or Tile textures.) The Left and Right angles are NOT mirrored/reflected, but rather they are actual renders of each angle. This means you can still flip or mirror each texture to get another variation, should the need arise.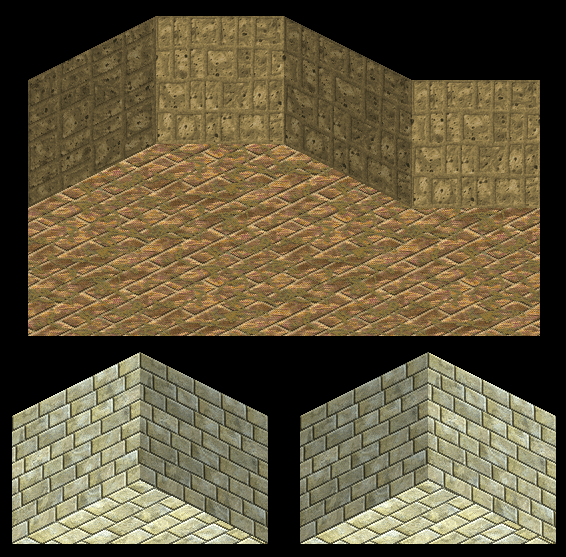 One use for these Textures is the construction of Isometric Tilesets, or Isometric Floors. They are very easy to create and simpler to work with than trying to skew textures by hand. Many of these textures are also available as floor tiles in the Isometric Floor Pack, but these textures will allow for further customization of your own.

Contents:
48 x Brick Textures (256x128) - 48 Textures!
36 x Grass Textures (256x128) - 36 Textures!
36 x Tile Textures (256x128) - 36 Textures!
36 x Wood Textures (256x128) - 36 Textures!
UPDATE 10/3/2022: Replaced Tilesheets with individual textures and proper filenames with no spaces.
More pre-skewed isometric textures and angles will be added over time! You can also read all about how to work with the Isometric Texture Packs or how to make your own at the official Screaming Brain Studios Website!
*Most textures are also available as Non-Skewed textures and Isometric Wall Textures:
Download
Click download now to get access to the following files:
SBS - Isometric Textures - Floor Pack.rar
9 MB